Latest News
AHATA Excellence Awards honors the best
AHATA Excellence Awards honored the best and presented the awards to the winners. There were eight categories and 57 nominees.
AHATA Excellence Awards 2019 a reconoce e miho nan den turismo
Aruba Hotel & Tourism Association (AHATA) a tene nan AHATA Excellence Awards anual pa reconoce e empleadonan mas impresionante den sector di turismo. Miembronan di AHATA ta emplea como 10,000 persona local, y pa 2019 nan a nomina 57 di nan miho empleadonan pa e honor di AHATA Excellence Awards. E ganadornan a keda anuncia den un evento espectacular cu a tuma lugar Diasabra anochi na The Ritz-Carlton, Aruba.
CEO di AHATA, Tisa LaSorte a ricibi tur nominado, invitado y Minister di Turismo, Danguillaume Oduber, tabata presente pa yuda reconoce e empleadonan impresionante. Nominadonan a sinta hunto cu nan famia, coleganan y gerente pa gosa di un anochi espectacular, yen di aprecio pa nan contribucion na e exito di Aruba su turismo. Durante palabranan oficial di bonbini, CEO di AHATA Tisa LaSorte a informa cu e programa di Excellence Awards ta pa honra e personanan cu ta labora cu pasion den e sector y cu ta importante pa cada nomindo sinti e aprecio. Turismo ta e unico pilar economico di nos economia y no por tin un industria exitoso sin cu e empleadonan haci nan trabao cu orguyo y duna un servicio di excelencia. A gradici sponsors cu a haci e anochi posibel y e 3 huradonan pa nan trabou di evalua tur aplicacion cu a drenta y entrevista cu cada nominado. A base di criterianan specifico di cada categoria, a selecta e 8 ganadonan.
Maestro di Ceremonia, Larissa Bermudez, a guia e anochi yamando cada nominado riba escenario pa ricibi su certificado mientras a pasa un video di cada nominado. Durante e evento yena cu suspenso a anuncia e siguiente ganadonan:
"Employee of the Year Small Company": Lisyene Becker, The Mill Resort & Suites Aruba;
"Employee of the Year Large Company": Edmond Kock, Divi Aruba Phoenix Beach Resort;
"Supervisor of the Year": Justine Cremony, The Ritz-Carlton, Aruba;
"Manager of the Year Small Company": Jagdish Dialani, Diamonds International;
"Manager of the Year Large Company": Edgar Cornet, RIU Palace Antillas;
"Young Tourism Professional 2019": Manon Scholte Lubberink, De Palm Tours;
"Sustainability Champion 2019": Frank Sabajo, La Cabana Beach Resort and Casino;
"Lifetime of Service 2019": Victoriano Quant, Hyatt Regency Aruba Resort Spa & Casino.
AHATA a premia cada ganado cu un escultura original y simbolico di artista local Gilbert Senchi. E ganadonan di AHATA Excellence Awards 2018 a regresa pa haci entrega di e award na e ganadonan di e aña aki.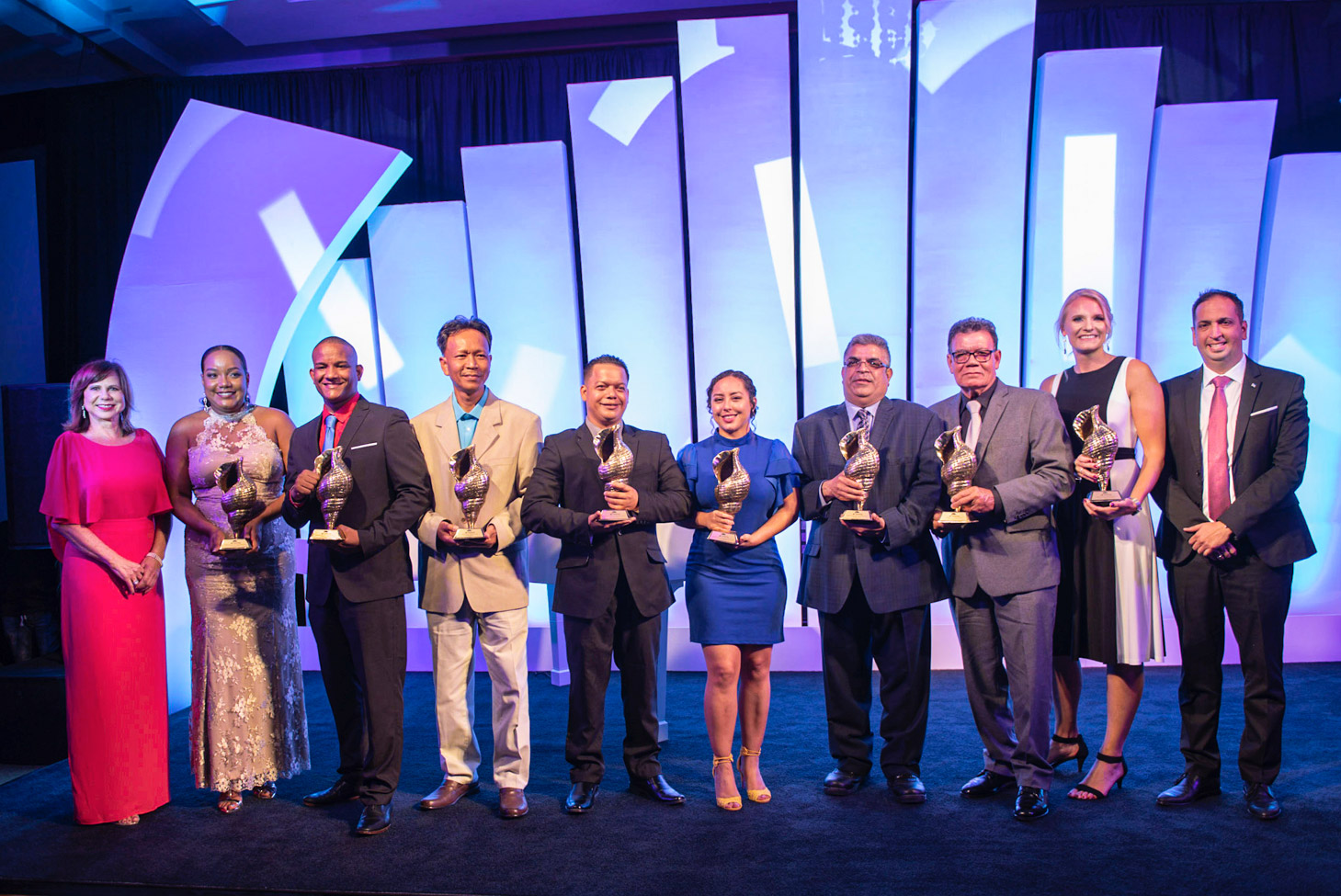 Posted on Nov 25, 2019